Article originally posted on www.dairylandinsurance.com

(opens in new tab)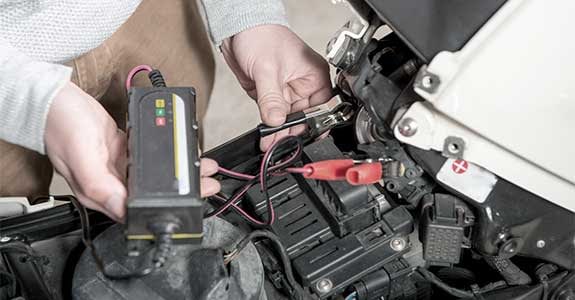 If you've ridden motorcycles for any length of time, you know the sad clicking sound of a dead battery. Or, on a modern fuel-injected motorcycle, the deafening silence when you turn the key expecting the hum of the fuel pump. Either usually means no ride today. It's even worse when it happens far from home.
Choose a boost for your scoot
For years, roadside service providers have carried portable jump starters, though portable was a subjective term. The earliest generations of these were nothing more than a large-capacity lead-acid battery in a carrier with short jumper cables. But they weren't meant for carrying on a motorcycle.
Thankfully, there are now compact portable battery booster and jump starters that come to the rescue. They're about the same size as a roadside tool kit, thanks to the dense power storage ability and compactness of lithium-ion batteries.
Using lithium-ion batteries
We use lithium-ion batteries every day without giving them much thought. Electronic devices—from laptops, phones, watches, and headphones to electric vehicles—wouldn't be possible without this technology. Over time, the cost per power output has fallen and made many new applications affordable. You can now buy a rechargeable, lithium-ion battery-powered jump starter for about the same price as a motorcycle battery.
Remember, while the jump starter unit is a sealed lithium-ion battery, your motorcycle will likely use a lead-acid battery in one form or another. That means you should follow standard safety procedures for jump-starting. Consult your motorcycle manual and the motorcycle battery manufacturer's recommendations for safe jump-starting and testing your battery. And be sure to follow the manufacturer's instructions for the lithium-ion battery when it comes to proper recharging, transport, storage, and end-of-life disposal.
Power for more than a jump start
Another advantage to portable battery boosters and jump starters is the ability to charge more than your bike's battery. Think about all the other battery-powered devices you depend on while riding and touring. Some models of jump starters can give you the ability to charge those other electronic devices. Many also provide other roadside safety features, like a built-in LED flashlight with strobe functions. These are just a couple more advantages to consider if you're thinking about getting a battery booster and jump starter. Best of all, battery boosters and jump starters can make a perfect gift for the motorcycle rider you know.
Of course, there are other ways to protect your trip from unwanted interruptions. Insurance coverages like roadside assistance can help you while you're on your ride. Discounts can also help make insurance coverage even more affordable.
Till next time, ride safe!
Related links:
If you're looking for more events and ride suggestions, check out our Events section.
Before you hop on your motorcycle, there are four things you should do to get ready for riding.
It's time to ride. Are you in shape for it? With a few regular exercises, you can help ensure a safer and more comfortable ride.
Dairyland® is affordable insurance that works for you.
No matter what journey you're on, we're all driving down the same road. And we're here to help protect you when you need us most. For decades, customers like you have trusted Dairyland® for:
Car insurance
Motorcycle insurance
We offer customized coverage, money-saving discounts, flexible payment options, SR22s, and outstanding customer service.
Contact Moon Insurance today to experience the Dairyland® difference for yourself.
Filed Under: Motorcycle Tips
|
Tagged With: Motorcycle Insurance, Personal Insurance