Article originally posted on www.dairylandinsurance.com

(opens in new tab)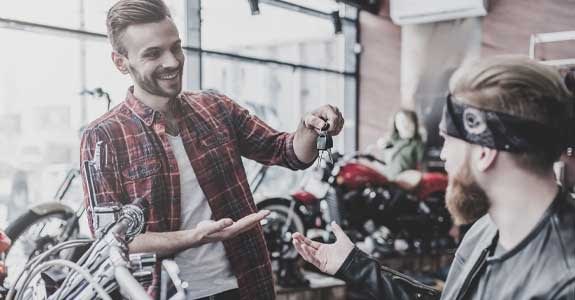 Congratulations! You're a proud new motorcycle owner. But before you hit the road, there's a little bit of work that needs to be done. Don't stress. We're here to help you with the entire process.
Request a motorcycle insurance quote online
Your first trip is likely the most critical of your riding experience—finding insurance. It's important to identify and choose a motorcycle insurance carrier that offers the right coverage for you. Start the process online with a free Dairyland® quote and see what sets us apart from other motorcycle insurance providers.
We stand behind our policies with industry-leading services, cost-saving discounts, experienced customer service, and claims assistance.
Our affordable rates provide:
Multiple options: We offer motorcycle insurance coverage options that fit your riding style.
Protection for different types of bikes: We cover all types of scooters and motorcycles, from Harley-Davidson, Honda, and Indian, to cruisers, touring, and sport bikes. Check out our full list of types of motorcycles covered.
Money-saving discounts: Looking for cheap motorcycle insurance without sacrificing protection? We offer motorcycle insurance discounts for good driving records, multi-policy, and motorcycle associations.
Experienced support: We've offered motorcycle insurance for more than 50 years and have the knowledge and experience to handle your claim and get you and your bike back on the open road.
Get to know your bike
We know you bought your bike to ride the open road and feel the wind in your face. With that freedom comes the responsibility of knowing how to operate your bike safely—both for yourself and your fellow riders.
If this is your first motorcycle, Dairyland highly encourages and recommends a Motorcycle Safety Foundation® Basic RideCourseSM. This will teach you the rules of the road, along with the physical and mental skills necessary to ride a motorcycle. If you're a veteran rider, advanced motorcyclist safety courses are available to help develop more challenging skills like smooth and precise throttle control, braking, and cornering maneuvers.
It's a win-win. If you pass the course, you may also qualify for a motorcycle insurance discount with Dairyland. The Motorcycle Safety Foundation offers classes throughout the U.S. To find one near you, please visit MSF-USA.org.
Protect yourself with the right gear
Regardless if this is your first bike or your 10th, safety is key. And, it's especially important for beginner motorcycle riders to protect themselves with the right gear. Motorcycle gear is an investment and one you want to be right side up on.
Here are the essentials to make sure you have before taking your new motorcycle for a ride:
DOT-compliant helmet
Eye protection, if you don't use a full-face helmet
Long-sleeve jacket and pants
Sturdy, over-the-ankle boots
Full-fingered gloves
Reliable gear doesn't last forever. Even after you've invested in the proper motorcycle wear, we recommend a thorough check at the start of each new season to help ensure everything is functioning properly. You can find more tips about how to inspect your gear here.
It's important to keep an eye on state laws regarding motorcycle helmet use. According to the Insurance Institute for Highway Safety, only three states—Illinois, Iowa, and New Hampshire—have no helmet laws. While laws are constantly changing, the majority of states do require helmet use for younger riders.
If you're in the market for a motorcycle helmet, there are many types to consider. A full-face helmet covers your whole head and will help protect you if you get into an accident where you need all-over protection. Keep in mind, most manufacturers say helmets last about five years. You should be able to find the manufacture date inside the helmet to keep track of how long you've been using yours. And, take a look at our article on helmet care to get the best and safest use out of your helmet.
Remember, there's no ride too short to leave your gear behind.
Get social with events and rides
Now that you've tackled all of the basics and are ready to ride, it's time to join the motorcycle community. Rides and rallies are the perfect places to share your new passion with other riders from all over the country.
Check out the 2020 motorcycle calendar of events, and ask your local motorcycle shop about other happenings in your community.
Related links:
If you're looking for motorcycle safety tips, check out our Safety section.
And the ride training course we mentioned? Check here for potential savings on your motorcycle insurance policy.
Dairyland® is affordable insurance that works for you.
No matter what journey you're on, we're all driving down the same road. And we're here to help protect you when you need us most. For decades, customers like you have trusted Dairyland® for:
Car insurance
Motorcycle insurance
We offer customized coverage, money-saving discounts, flexible payment options, SR22s, and outstanding customer service.
Contact Moon Insurance today to experience the Dairyland® difference for yourself.
Filed Under: Motorcycle Tips
|
Tagged With: Motorcycle Insurance, Personal Insurance