Article originally posted on www.dairylandinsurance.com

(opens in new tab)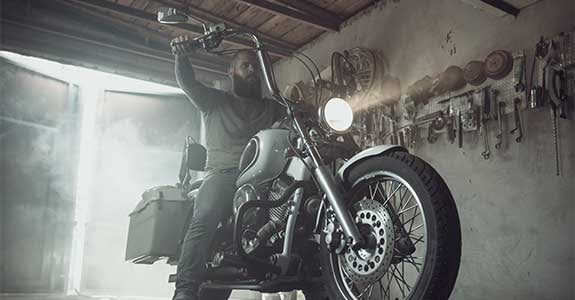 We love motorcycles for the adventures, the places they help us discover, and the pure joy of riding them. Given the choice, most riders would spend all day on their bikes. But, in the real world, our beloved motorcycles spend a fair amount of time parked. Whether idled overnight during the workweek or for the length of winter, motorcycles are often placed in storage for more time than they're rolling down the road.
Some riders might be comfortable leaving an older, daily commuter motorcycle parked outside. But even though they're designed and built to survive the elements when in use, motorcycles parked outside for an extended time can age rapidly. How you store your motorcycle impacts its service life, value, and operating costs, and increases the risk of it being stolen.
Motorcycle storage options
There are many storage options available for motorcycles, ranging from outdoor weather protection to heated garages and commercial motorcycle storage facilities. Here's a look at some of the common ones:
Motorcycle covers: The most basic motorcycle storage is an old-fashioned motorcycle cover. Choose a breathable cover so air can flow through to help reduce the amount of moisture that collects on your motorcycle. The ability to securely lock the cover in place is also important. For added security, use multiple locks on your motorcycle cover.
Motorcycle storage pods: There are several brands and designs of motorcycle storage pods out there. Some are designed for the outdoors, providing weather and sun protection, while others are designed for indoors. Some even inflate and can protect the motorcycle from dust and humidity.
Indoor motorcycle storage: Many motorcycle dealerships now offer off-season storage packages that can include servicing the motorcycle, battery maintenance, and washing. They may even detail your bike before you pick it up. Parking garages and commercial storage centers are other common shelter options.
Private residential garage: Your home or apartment complex may have space to store your motorcycle. Many riders prefer this option since they can both store and maintain a motorcycle throughout the year. This is probably the most desired way for many riders since the bike is available if great weather arrives during winter, or just to be able to sit on the saddle when you're snowed in.
Storage and motorcycle insurance
There are variables that come into play, but if your bike is regularly stored in a fully enclosed, secure structure, it may earn you a discount on your motorcycle insurance. Ask your Dairyland agent about the details.
Whether in the garage or on the road, it's important to protect your bike. A number of insurance coverages like roadside assistance are out there to protect you while you're on your ride. Discounts can also help make insurance coverage even more affordable.
Till next time, ride safe!
Related links:
If you're looking for more events and ride suggestions, check out our Events section.
Road surface hazards are lurking out there throughout the year. Here are more articles on how to deal with some of them:
Dairyland® is affordable insurance that works for you.
No matter what journey you're on, we're all driving down the same road. And we're here to help protect you when you need us most. For decades, customers like you have trusted Dairyland® for:
Car insurance
Motorcycle insurance
We offer customized coverage, money-saving discounts, flexible payment options, SR22s, and outstanding customer service.
Contact Moon Insurance today to experience the Dairyland® difference for yourself.
Filed Under: Motorcycle Tips
|
Tagged With: Motorcycle Insurance, Personal Insurance