Article originally posted on www.dairylandinsurance.com

(opens in new tab)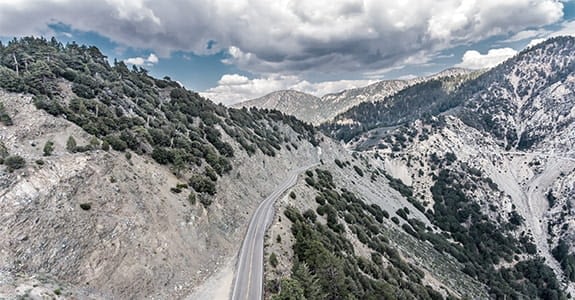 Ready to ride one of the finest motorcycle routes in the Los Angeles metro area? The Angeles Crest Highway—also known as the Angeles Crest Scenic Byway—offers you a thrilling and picturesque alpine alternative to the hustle and bustle of the city. With this guide, we'll help you prepare for your ride with weather and safety tips, a series of must-see stops, and an interactive route map.
Let's get started!
Navigating the Angeles Crest Highway
The Angeles Crest Highway begins at the junction of Interstate 210 and California State Route 2 (SR2) and travels 66 miles through the San Gabriel Mountains to its eastern terminus at SR 138 near Wrightwood.
Angeles Crest Highway map
We created this Angeles Crest Highway route map to help you plan your ride and find must-see destinations in the moment. Use our map as a foundation and add your own stops to create a unique route.
Weather along the Angeles Crest Highway
The highway climbs up over 7,000 feet in elevation and frequently experiences snow at higher altitudes. Yes, even in Southern California, the snow can be heavy enough to cause road closures and avalanches.
That said, the Angeles Crest Highway can be a dream riding destination all year round. Just make sure you check the forecast ahead of time, and if it's going to be cold, pack the right cold-weather riding gear and review these winter riding safety tips.
Terrain on the Angeles Crest Highway
Like most routes through mountainous terrain, the Angeles Crest Highway features dramatic elevation changes and some blind curves. In places, the highway runs along a cliff's edge, and many areas feature guardrails or natural or man-made berms. You'll also ride through two short tunnels, neither of which are artificially illuminated.
Motorcycle rider safety tips
The Angeles Crest Highway carries some weekday commuter traffic, but tourist traffic is likely to be more disruptive and potentially dangerous. Expect to share the road with bicyclists, RVs, and vehicles towing campers. As you ride, keep these hazards in mind:
Drivers, motorcycle riders, and sightseers can be distracted by the area's dramatic mountain views.
Surface hazards like dirt, sand, and fallen rocks are common.
Local motorcycle riders who frequently ride this route often ride at a faster speed. Don't feel like you need to attempt to keep up with them—especially in curvy areas—and be sure not to exceed the posted speed limit.
Watch for vehicles entering or exiting the road from the numerous pullouts and recreational areas.
Maintain a safe following distance behind any motorists ahead of you.
Stops to make on the Angeles Crest Highway
As the Angeles Crest Highway passes through the San Gabriel Mountains, it features dozens of scenic vistas and unofficial pull-off spots. For your safety, we recommend you stick with the clearly designated areas, including those listed below.
Also, keep in mind you'll need to pick up a California State Park Adventure Pass and display it on your motorcycle to park in some areas.
Red Box Picnic Area
Red Box is a popular picnic area near the turnoff to the Mount Wilson Observatory and the Cosmic Cafe. From the summit of Mount Wilson, you get some amazing views of the Los Angeles basin and the surrounding mountains. Just keep in mind you'll need your Adventure Pass here.
Newcomb's Ranch
The historic Newcomb's Ranch restaurant and bar opened in 1939 and was operated by the Newcomb family until 2001. Another family purchased the property and ran the restaurant until 2021, when they put it up for sale. While it's currently closed, bikers and drivers often stop to hang out in the parking lot. Being the only private property along the Angeles Crest Highway—and an iconic gathering place for motorcycle enthusiasts—Newcomb's Ranch is likely to find a new owner soon.
Dawson Saddle
At 7,943 feet (2,421 meters), Dawson Saddle Pass is the highest point along the Angeles Crest Highway and the second highest mountain pass and saddle in Southern California. If you're looking to do a little hiking as you explore the Angeles Crest Highway by motorcycle, Dawson Saddle is the perfect starting point. Dawson Saddle Trail is 1.8 miles long, and the trailhead parking lot is easily visible.
Dairyland® is affordable insurance that works for you.
No matter what journey you're on, we're all driving down the same road. And we're here to help protect you when you need us most. For decades, customers like you have trusted Dairyland® for:
Car insurance
Motorcycle insurance
We offer customized coverage, money-saving discounts, flexible payment options, SR22s, and outstanding customer service.
Contact Moon Insurance today to experience the Dairyland® difference for yourself.
Filed Under: Motorcycle Tips
|
Tagged With: Motorcycle Insurance