Article originally posted on www.dairylandinsurance.com

(opens in new tab)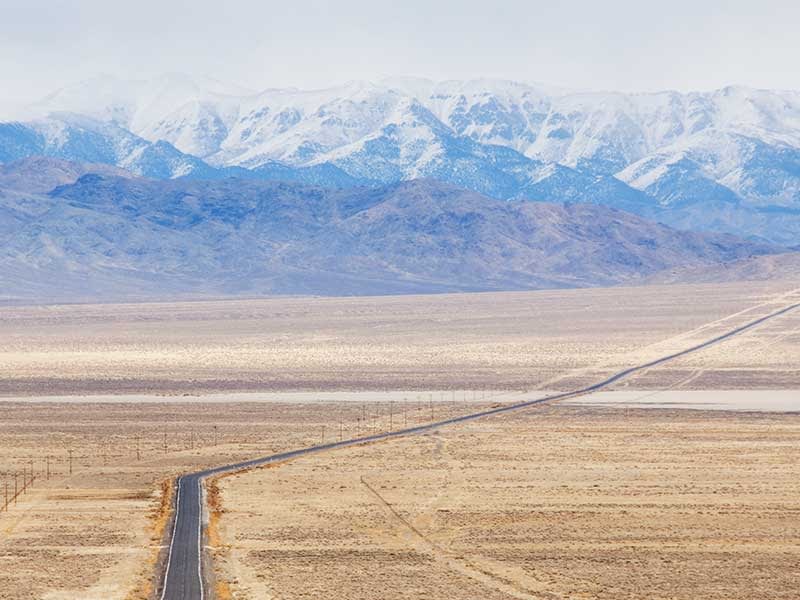 How does a road get such a moniker? The same way motorcycle riders earned the outlaw image—a story in Life Magazine. The July 1986, issue of Life Magazine was adorned with a picture of the Statue of Liberty and the headline "America the Wondrous." Inside was the story that gave U.S. Route 50 in Nevada the nickname, The Loneliest Road in America.
Once the Lincoln Highway
The course U.S. Route 50 follows across Nevada was part of one of the earliest transcontinental highways in America—the Lincoln Highway. An early automobile road, it ran from New York City to San Francisco. This famous road was dedicated on Oct. 13, 1913.
The history of this route predated motorized travel. The Pony Express and the Butterfield Overland Mail and Stage used it. With the creation of the U.S highway system, it became known as U.S. Route 50. The route was ultimately bypassed by the construction of Interstate 80, and like many other vintage U.S. highways, it faded from popular use.
The route
U.S. Route 50 runs more than 3,000 miles across the country, from Ocean City, Maryland, to West Sacramento, California.
The Loneliest Highway in America stretch begins when you enter Nevada at the Utah state line, and passes north of the Great Basin National Park. In about 65 miles, the first city you will encounter on your westward journey is Ely, a former Pony Express and stagecoach stop. Continue west 77 miles to Eureka, a small town that shares a mining heritage with Ely.
Pushing 70 miles further west, you arrive in Austin, an even smaller town. Imagine all that open country—sparsely settled and little changed since the stagecoach days. Advance 110 miles west and you will come to the big city of Fallon. This city feels crowded with civilization. These long, remote stretches remind riders to be prepared.
Leaving the loneliness behind, the remaining 87 miles to the California state line will take you past Silver Springs and Carson City, and then along Lake Tahoe.
An adventure in time awaits
The Loneliest Highway in America has a lot of history, from the Pony Express usage to a historic ride among motorcycle pioneers.
More than 100 years ago, when the Lincoln Highway crossed the empty spaces of Nevada, traveling by motorcycle was an epic adventure. Imagine, if you will, the Van Buren sisters riding across that lonely road to become the second and third women to ride a motorcycle coast to coast. They did this stretch 70 years before it received its famous nickname.
Today, you can ride U.S. Route 50. It has been silently waiting for you. Out in the wide-open spaces, if you squint in the desert sun, you may see the dust of the Pony Express and the Van Burens. Chase that mirage on your own epic adventure.
Till next time, ride safe!
Related links:
Check out some other unique places to visit across the country in our Rides section.
Meet your coverage needs for the trip. Interested in Roadside Assistance?
Want a little extra protection for incidentals while enjoying the ride? Trip Interruption is just one of the many coverage options we offer.
Do you travel with a rider group? Save more on your insurance with our rider group discount!
Dairyland® is affordable insurance that works for you.
No matter what journey you're on, we're all driving down the same road. And we're here to help protect you when you need us most. For decades, customers like you have trusted Dairyland® for:
Car insurance
Motorcycle insurance
We offer customized coverage, money-saving discounts, flexible payment options, SR22s, and outstanding customer service.
Contact Moon Insurance today to experience the Dairyland® difference for yourself.
Filed Under: Motorcycle Tips
|
Tagged With: Motorcycle Insurance