Article originally posted on www.dairylandinsurance.com

(opens in new tab)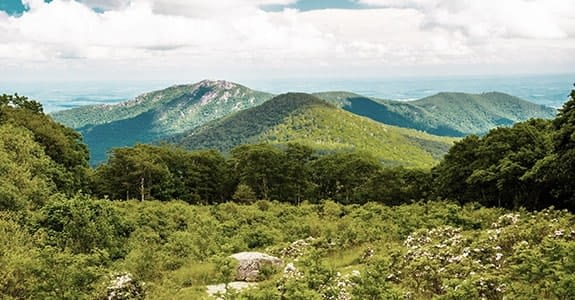 When you think of incredible mountain roads on the east coast, be sure not to overlook Skyline Drive. Here's what you need to know as you plan your motorcycle ride along this scenic route.
Navigating Skyline Drive on your motorcycle
This often-overlooked route features 105 twisting, turning miles through the Blue Ridge Mountains and Shenandoah National Park, offering jaw-dropping views around every bend. The road climbs from roughly 600 feet in elevation at the northern entrance to 3,680 feet after about 42 miles, then rolls down to 1,900 feet at its southern terminus.
Where does Skyline Drive begin and end?
Skyline Drive is the only public road through Shenandoah National Park. It starts at a juncture with U.S. Route 340 (US340) just south of Front Royal, Virginia. The road ends 105 miles later at a juncture with U.S. Route 250 (US250) in Rockfish Gap.
Fees and access points along Skyline Drive
No matter which entrance you use, you're entering a national park, so you'll need to purchase a park entrance pass for a small fee. The $25 fee covers a single motorcycle operator and a passenger for seven consecutive days.
Along with the northern and southern terminuses we've described above, there are two additional Skyline Drive entrance stations.
Thornton Gap entrance station
This entrance station sits between mile markers 31 and 32, off an exit from U.S. Route 211 (US211). Exiting Skyline Drive onto US211 westbound leads to Luray, Virginia, and the famous Luray Caverns.
Swift Rung Gap entrance station
This route enters Skyline Drive between mile markers 65 and 66 from U.S. Route 33 (US33). Riding US33 westbound takes you to the Shenandoah Valley, while heading east sends you toward Richmond, Virginia.
Skyline Drive weather
Road conditions and weather can dramatically impact your motorcycle ride—from the clothing and gear you wear to the air pressure in your tires. Skyline Drive sees a wide range of temperatures and precipitation types throughout the year. To help you plan, here are the monthly averages for Front Royal, home of Skyline Drive's northern terminus.
Is Skyline Drive closed?
Portions of Skyline Drive can be closed due to inclement weather, most frequently when snow and ice accumulate at higher elevations. In summer, thunderstorms and high winds can down trees, causing brief delays and traffic back-ups. For the most current closure status, call the park's recorded information line at 540-999-3500.
Motorcycle safety tips
With a speed limit of 35 miles per hour throughout most of its duration, Skyline Drive requires you to maintain a nice cruising pace, and its lack of crossroads and commercial traffic makes for a bucolic motorcycle ride. Although many of the risks associated with highly developed areas and traffic are absent here, you still need to stay alert and focused while riding. Additionally, keep these tips in mind:
Watch for wildlife along the roadside and crossing the road. Deer, bears, and other animals can appear with little warning, especially at night.
Shenandoah National Park is a popular recreational area, so expect RVs and vehicles towing trailers.
The park's scenery can distract drivers, particularly during fall foliage season. Watch for vehicles suddenly slowing, stopping, and parking along the roadside.
Some sections of Skyline Drive feature blind curves and limited visibility. Watch your speed as you go around corners, and be sure not to drift over the center line.
Stops to make along Skyline Drive
While it'd be easy enough to ride your motorcycle straight through the 105 miles of Skyline Drive in a few hours, you'll want to check out at least a few of the 75 scenic overlooks dotting the path, along with:
Shenandoah National Park
Covering more than 200,000 acres, Shenandoah National Park is a long, narrow mountain sanctuary rising above the forests and fields below. Skyline Drive runs through the center of the park and offers you access to recreational opportunities including camping, hiking, fishing, rock climbing, and horseback riding.
Blue Ridge Parkway
When you reach the southern end of your Skyline Drive motorcycle ride, you'll arrive at the start of the Blue Ridge Parkway. This route was created to connect Shenandoah National Park to Great Smoky Mountains National Park in North Carolina.
How long does it take to ride the Blue Ridge Parkway on a motorcycle?
Blue Ridge Parkway is 469 miles long and can be ridden in two to three days. But with so much to see and do, giving yourself a week is well worth the time.
Dairyland® is affordable insurance that works for you.
No matter what journey you're on, we're all driving down the same road. And we're here to help protect you when you need us most. For decades, customers like you have trusted Dairyland® for:
Car insurance
Motorcycle insurance
We offer customized coverage, money-saving discounts, flexible payment options, SR22s, and outstanding customer service.
Contact Moon Insurance today to experience the Dairyland® difference for yourself.
Filed Under: Motorcycle Tips
|
Tagged With: Motorcycle Insurance